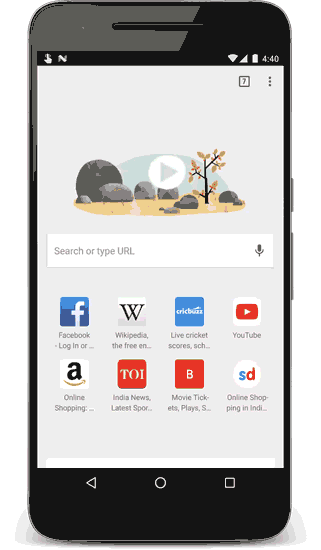 Google planuoja atnaujinimus mobiliam Chromui.
New tab page gaus dar daugiau šlamšto. Prasukus žemiau, bus rodomi suggestions. Jo, Firefox jau bandė tokį dalyką naujo tabo puslapyje ir nudegė. Welcome to the club. O man reik tik bookmarkus ten matyt vietoj to, kad įsimintų mano lankytus puslapius. Dar kažkodėl kai kurių puslapių nu niekaip nenori įsimint, nors lankaus ten pastoviai..
Data Saver patobulins. Video greičiau ir taupiau kraus. Nors man asmeniškai netenka video tiesiai per Chrome žiūrėt. Dažniausiai tai Youtube app. Tegul jį tobulina. Vis dar paleidžia žema kokybe kai 4G ir Wifi įjungti kartu. Dar kai silpnas ryšys bandys apmažint puslapyje rodomų elementų kiekį (nuotraukos, fonai ir pan.). Aišku, Google Ads reklama priskiriama prie esminių puslapio elementų ir jos neišmes taupant:) Jau dabar dažnai Chrome siūlo įjungt Mobile friendly režimą kai kokį puslapį atidarai su smulkiu tekstu ir pan. Data saver kadaise bandžiau. Nedraugavo su cookiais (tekdavo logintis į puslapius kas kart einant), tai išjungiau. Nelabai ir rūpi. Su 4G (ir net su 3G) pakankamai greitai krauna ir taip, ir dydis nesvarbu kai vis lieka neišnaudoto trafiko kas mėnesį:)
Dar atsiras galimybė parsisiųst puslapį ar kokį kitą dalyką lokaliai į įrenginį ir bet kada jį atidaryt/paleist, net nebūnant ryšiui. Na, gal ir patogu tam, kas dažnai ne ryšio zonoj būna. bet tai reikia pastoviai galvot apie tai, ką reikia išsaugot į offline ir vietos tam turėt įrenginy.